1BTS English Time
Trainers
Florence Pautot |
Ciaran Campbell |
Kevin Meyer |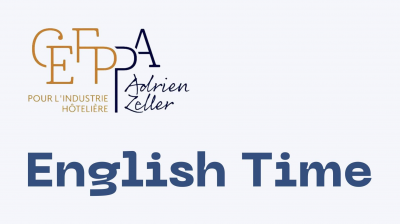 Progressive acquisition of new vocabulary is absolutely necessary.
You should pay much attention to the new words and make vocabulary lists.
Course Information
Topics
English should enable you to communicate with the guests and have a theoretical approach of the catering and hospitality industry, whatever your specialisation.
Analysis of professional situations will be necessary. The permanent questions should be: why am I doing this and how can I improve the situation?
Methodology
Whatever your specialisation, you will be expected to study every aspect of the course.
Besides you will find a list of essential links in order to enable you to improve your English.
General Description
Apart from the fact that English is widely spoken all around the world, this is also a language often used by professional caterers and hotelkeepers.
This course will be mainly about using English as a professional tool. Therefore the course will be closely linked with other vocational subjects and students will be expected to speak about professional matters.
Students should be able to communicate in English at all times when in class.
Human and technical Resources
You will work with one English teacher, but you will see that working with hospitality specialists is essential. Thus technology teachers and professionals will sometimes take part in the English training.
The use of audio and video files being essential in your training, the computer room and the CDR will be used on a very regular basis.
Do not hesitate to get in touch if need be.
Course material
There is no course book, but a series of chapters will be handed out.
I nonetheless recommend the use of the bibliography and webography which you will find in the documents.
Assessment process
Every extra exercise is assessed.
Working on professional press articles is part of your training and you may expect to fill in MCQ papers on a regular basis to check your undertanding.
Each chapter ends with a test.
Coaches